If you're getting Twitter's older interface and the steps here aren't correct for you, try the
previous method
instead.
Archive mode instructions
Archive mode works similarly to regular tweet deletion. The difference is that you also supply us with your "tweet.js" file. This contains a full list of your tweets, so we can use it to find and delete large numbers of old tweets (avoiding the 3,200 limit).
The necessary steps are: -
Request your Twitter data file and download it once Twitter has prepared it for you.
Extract the "tweet.js" file from your Twitter data file.
Fill in our archive mode form with your "tweet.js" file and your other settings.
Obtaining your Twitter data file
This option is in a different place on some platforms, so please refer to Twitter's own step-by-step instructions if needed (click the circle above them that corresponds to your platform).
Open Twitter's settings page by clicking the "more" icon in the navigation bar, and then selecting "Settings and privacy" from the menu.
From the "Account" section of the settings, pick the "Your Twitter data" option (screenshot below).
Confirm your Twitter password if necessary, then press the "Request data" button.
You should also make sure your Twitter email address is up to date, so that they can email you a link to the data file.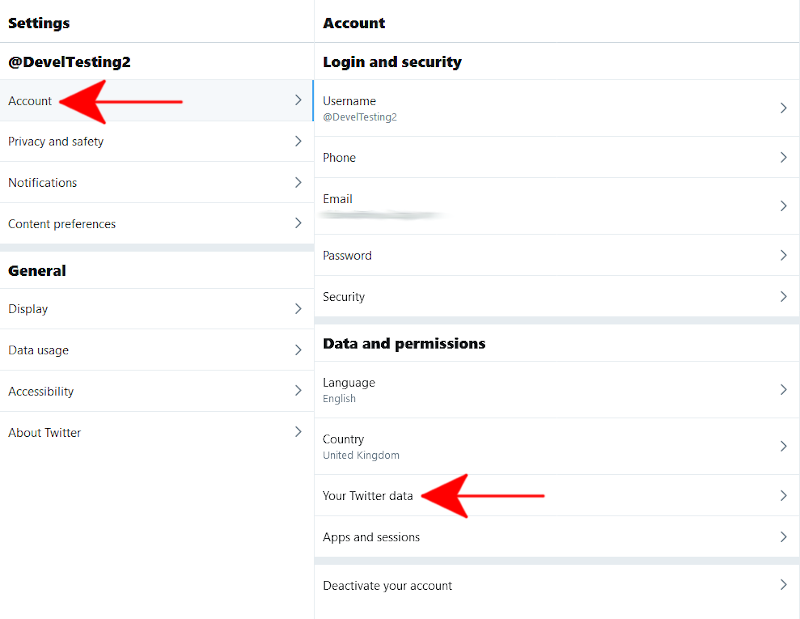 It may take several hours for Twitter to prepare your file. Once it's ready they will send you an email link or a push notification allowing you to download it to your device. Twitter data files can sometimes be very large (they also contain all the media you've ever posted) so we suggest doing this on an unmetered internet connection.
Extracting your "tweet.js" file
Once you have your Twitter data file, you'll need to extract the "tweet.js" file it contains. Exactly how to extract a .zip file varies depending on your platform. It's often as simple as clicking on the Twitter data file to open it, and then dragging "tweet.js" out of it to another location.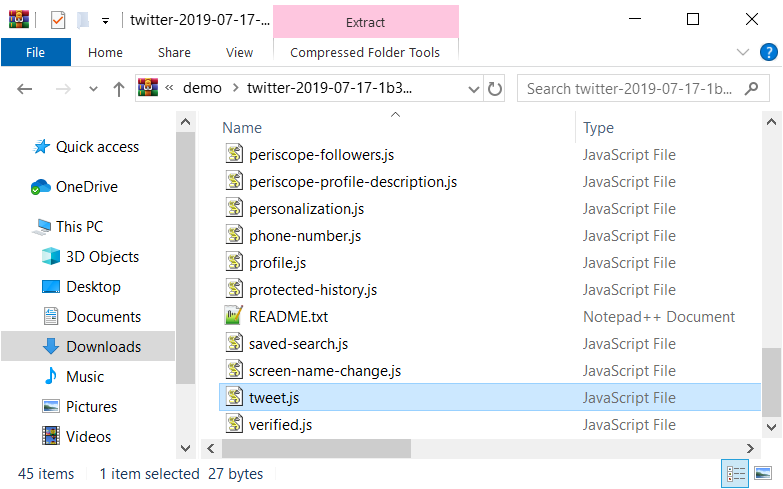 Deleting your tweets
Once you have your necessary file, simply fill in our archive mode form. You'll need to press the "Browse" button and pick your "tweet.js" file.
Please be very careful to also specify your tweet age and keyword settings correctly, as archive mode is capable of deleting very large numbers of tweets.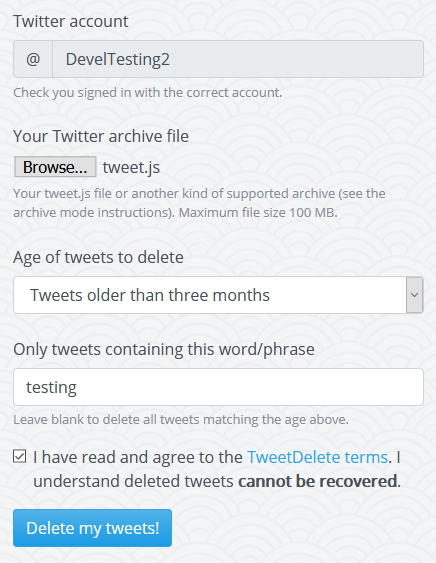 We preserve your privacy by deleting your Twitter archive file from our servers immediately after we process it. This is before the tweet deletion even starts (we use ID numbers for that and don't need to store the actual tweets).
Files we can process
Our service works with several different kinds of file that you can get from Twitter (what they offer varies depending on your platform): -
The "tweet.js" file found inside Twitter data files (as shown above).
Your Twitter data file (.zip) - however this contains large media files and is often over our upload size limit, so we suggest just submitting "tweet.js" instead.
Your Twitter archive file (.zip).
The "tweets.csv" file found inside Twitter archive files.
If you have a very high number of tweets and your individual "tweet.js" or "tweets.csv" file is larger than our upload limit, you can also create a new .zip containing only the needed file and submit that. Our support team can offer further assistance with processing large files if needed.
How much we can delete
If your settings ask us to do it, we'll send Twitter deletion requests for every tweet in your archive (a number of users have deleted 300,000+ tweets with archive mode). We can typically delete 99%+ of the tweets in your account. However there are certain tweets that Twitter won't allow to be deleted, so we can't always reduce your tweet count to zero. This seems to happen most often with certain types of retweet (where the original poster's account has been suspended or deleted).
Additional tips
You should submit a file obtained recently, otherwise it won't contain an accurate list of your current tweets.
Don't delete tweets between requesting your archive/data file and using archive mode (same reason as the point above).
If your account contains large numbers of tweets, it can take us many hours to delete them (a rough estimate is about 15,000 per hour). You don't have to keep our site open, your deletion task will run to completion regardless. You can check the result later on the "Tasks" page.
If you run overlapping or repeat deletions using the same file (for example deleting tweets older than 2 years and then changing your mind and deleting tweets older than 1 year), you'll see a lot of "missing" responses in the results for tweets that have already been deleted.
Once you've requested a file from Twitter, it will be some time before they'll let you request a new one (several days for archive files or one month for data files).