Going viral for the wrong reasons can significantly impact your personal life. The backlash can affect your job opportunities and change people's perceptions about you. So, you want to ensure only people you know or trust can view your content on Twitter, now X. Or, you prioritize privacy over everything else and want control over who sees your posts. Learning how to go private on Twitter is essential if this sounds like you.
This article is a handbook that guides you through how to make Twitter account private. It also discusses what happens to your account during and after this change. Continue reading to learn how to find your way around X or Twitter to protect your profile's privacy.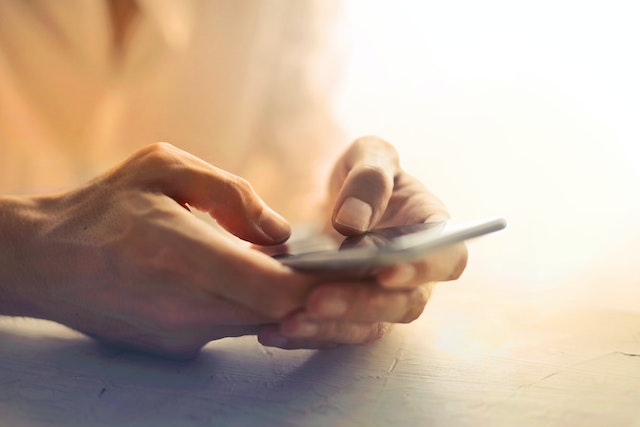 How To Change Your X or Twitter Profile From Public to Private?
After you create an account on X, formerly Twitter, the platform sets the visibility as public. This means any user can view your profile. People can see your post history when they open your account's page. It also shows your replies, tweets containing media and your likes. However, you may not want everyone to see your activity on the platform. Below is a guide explaining how to make your Twitter account private:
Open Twitter, now X, for Android, iOS or the web.
Web users will see a navigation bar on the left side of the screen. This contains all the shortcuts to quickly access various sections of X or Twitter. Mobile app users, i.e., people on Android and iOS, must swipe right to bring out this menu.
If you use X for the web, click More to open another menu. Select Settings and Support and open Settings and Privacy.
The social media platform will take you to the main settings page. Open Privacy and Safety.
There are several options on this page. Click on Audience, Media and Tagging under the Your X Activity section.
Enable the settings option, Protect Your Posts. This controls whether your profile is public or private. When you enable it, your account becomes private.
The platform will ask you if you want to change your profile's visibility settings. Click the Protect My Account button in the popup to proceed.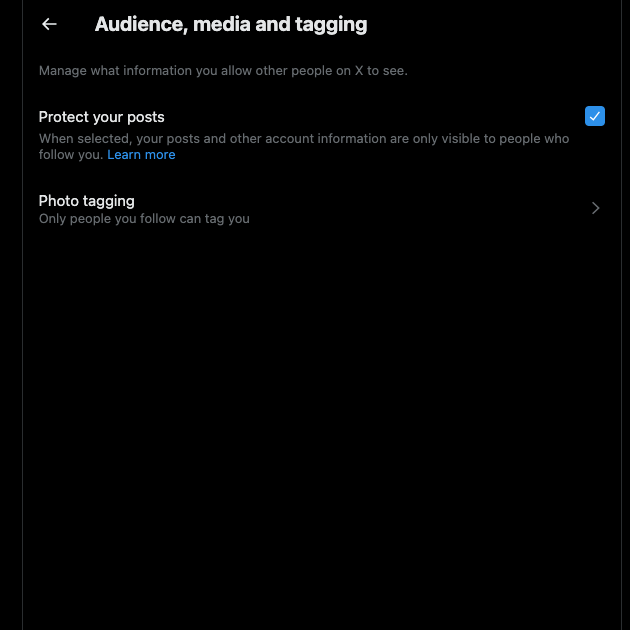 What Happens When You Make Your Twitter Account Private?
When you enable the Protect Your Posts setting, it will look like nothing is different. However, there is a dramatic shift, which may not be visible to you immediately. Here are some of the changes that will take place after you make Twitter account private:
Users will no longer be able to follow you after they come across your profile. They must send you a request if they need to become your follower. You will get a notification and can approve or deny these follower requests.
Only people who follow you can see your posts after enabling the account protection feature. Your tweets won't appear in the feeds of non-followers. When people visit your profile, they won't see anything.
Your Twitter profile will no longer appear in search results on X or any other search engine. However, your followers can still find you using the platform's search feature.
When you reply to another user's post, the comment is only visible to your followers. Non-followers won't see the reply. This is also true if the author of the post isn't a part of your follower list.
The repost button will no longer work for your posts. This means your followers won't be able to repost your tweets. Also, they can't use the quote post feature either.
Any media you attach to your tweet or post is only visible to your followers.
However, these actions are still possible, even with a private Twitter account:
Although the media you attach is private, the same rules don't apply to the media links and other URLs. Anyone can view your media if a follower shares the URL.
Your followers can take screenshots of your posts and share them.
Your account or posts can appear on search engines if a third-party service can access your profile. What Should You Do After Your X Account Becomes Private?
Before you publish another post, you need to do a bit of spring cleaning. This way, you will have complete control over who sees your post.
Go through your current followers list. If you come across any user who shouldn't have access to your posts, remove them from the follower list. Use the three-dot button next to the user's profile to find the setting to remove them. You can also go the extra step and block them.
You should check if a third-party service can access your profile:
Go to the main settings page, i.e., via Settings and Support. Then open Settings and Privacy.
Select Security and Account Access and navigate to the Apps and Sessions tab.
Click on Connected Apps to get a list of every third-party service with access to your profile.
Review each app and revoke its permissions if necessary.
Alternatively, you can change your X password. This logs you out of all third-party services immediately.
Search for your account on a search engine or via X search. If your account or private tweets appear, you should report this to Twitter immediately. The platform will ask you for the following information:
Places where your account or posts are still visible. For instance, does it appear on Google Search?
Whether you use any third-party service for X or Twitter? If yes, you need to list all the applications with account access.
When did you become aware of this issue?
With this information, the platform will review your application and take action. If your account or posts appear on Google Search, you must contact Google. As your account was public, some results containing your profile or its public tweets may appear.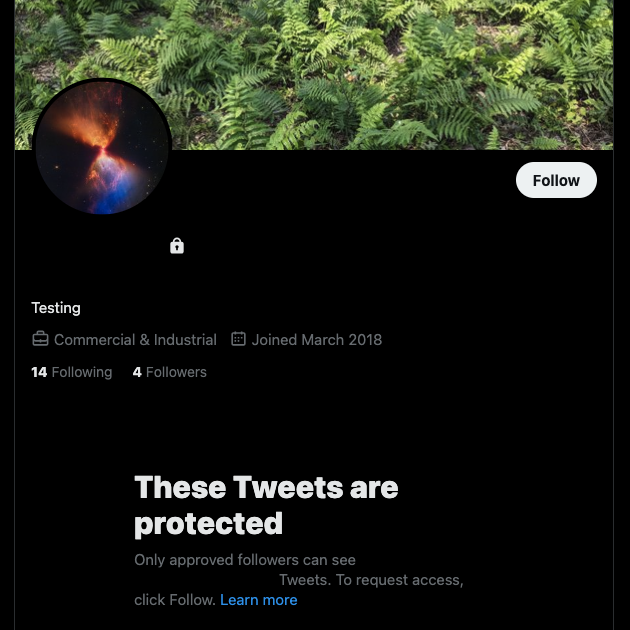 Use the How To Go Private on Twitter Guide To Protect Your Account
Using a Twitter private account account is a good practice as it can keep your profile safe. If bad actors can't see your account, it lowers the chances of becoming a victim of a cybercrime. Also, it safeguards your privacy, ensuring only people you know and trust can view your posts. Make sure you clean your follower and third-party app list. Otherwise, non-followers may be able to find your account.
Another way to protect your privacy on X or Twitter is to delete your old posts from the platform. Keeping older content on your profile is risky, as anything you say can age poorly with time. This means people can misinterpret your tweets and come to the wrong conclusion. Rather than dealing with this situation in the future, you can prevent it from happening by deleting your posts.
TweetDelete offers powerful solutions to help maintain your reputation in the digital space. You can delete thousands of tweets with a few clicks instead of manually removing each one. There is an automation feature to also help with the clean-up. Set it up as per your requirements to delete unnecessary or irrelevant posts. The best part is that it doesn't leave any signs of you removing your posts. Combine TweetDelete with our guide on how to go private on Twitter for ultimate privacy in the social media space!
Bulk Delete Old Tweets
Sign Up Now