Knowing how to download tweets (posts) is a great way to preserve your Twitter, now X, history. Or, if you're a brand or a social media marketer, you can view all your competitors' tweets in one place. This helps you analyze your competition to get deeper insight into their content strategy.
You need to go deep into the settings page to find the answer to—where to download my tweets. To view tweets from other users and brands, you need third-party tools. Learn what you need to do to download a tweet on X or Twitter with this guide.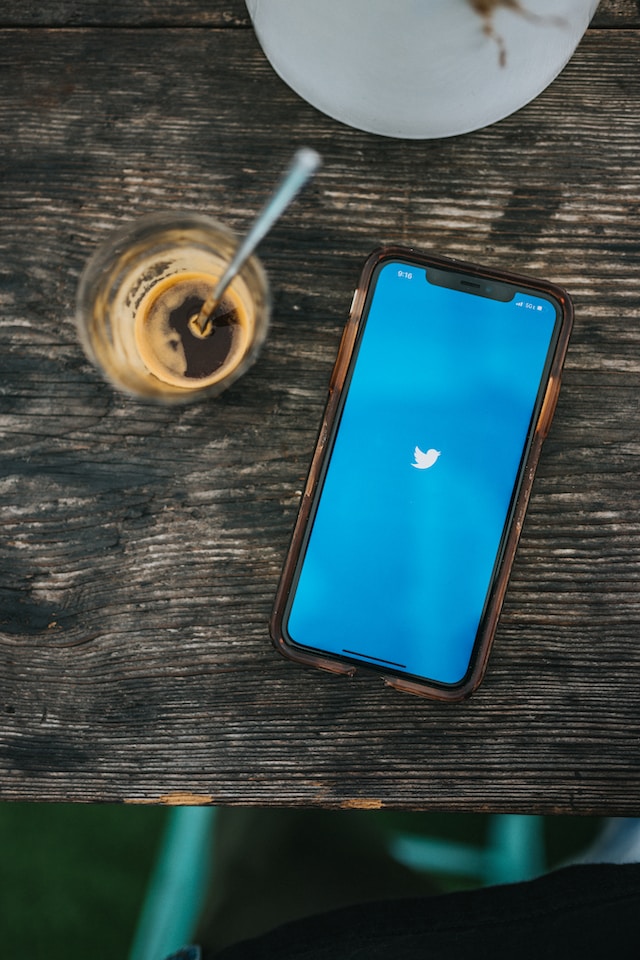 How To Download Tweets From Your Account?
X, formerly Twitter, introduced the archive feature in 2012. It is a file containing your entire history on the social media platform. You'll find all your posts, including your first tweet. It also includes media like GIFs, images and videos in your tweets. Below is a guide highlighting how to download tweets from your account on X for Android, iOS and the web:
X for Android, iOS and the web
You need to use the quick navigation menu to open the settings page. Swipe right on your smartphone's screen to access this menu. On X for the web, you can already see this menu on the left side. Open the More settings option if you're on a desktop or laptop browser.
Tap on the option Settings & Support. A menu drops down and shows two additional options. Select Settings and Privacy from this menu.
Now, you're on the settings page. Tap on Your Account and open Download An Archive Of Your Data.
The app will ask you to re-enter your X or Twitter password. This is to ensure only you download your archive, not another user.
In the next screen, Twitter, aka X, will want to authenticate your identity. Tap the Send Code button to send the verification code. Enter this code to pass the verification test.
You'll see the Request Data button under X Data. Tap this button, and Twitter will prepare the archive file.
Wait for at least 24 hours to download this file. It can take longer if you are a long-time X or Twitter user. The platform will notify you on your email address that the file is ready. Follow the same instructions as above. Instead of the request archive button, you'll see Download Archive. Open the file and select Tweets to see your post history.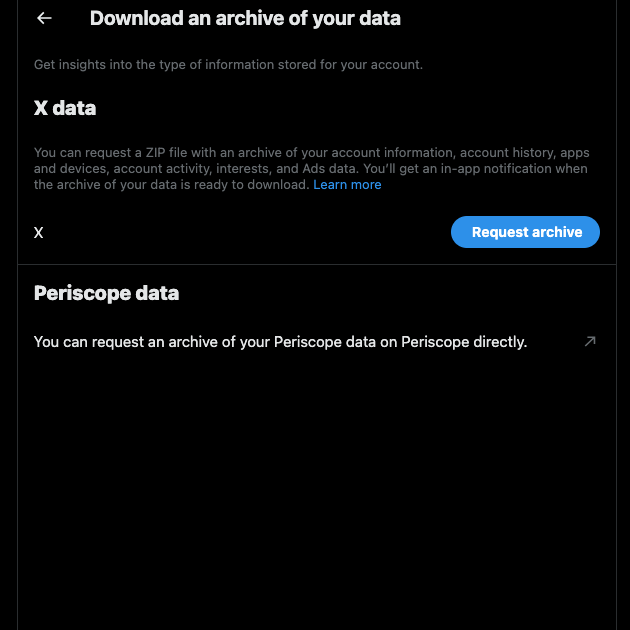 Download All Tweets From a User: Is It Possible?
Yes, you can download all tweets from a user on Twitter, aka X. However, you can't use the X (Twitter) archive method as this is only available to the account owner. There were several third-party tools to download every post from any user. However, most tools no longer work due to the platform's application protocol interface (API) pricing changes.
Fortunately, there are still a few tools that you can use to get a digital copy of another user's posts.
How To Download All Tweets Using Apify?
Apify is a web scraping platform that you can use to extract data from Twitter, rebranded to X. As a free user, you can use up to $5 worth of services on this website. A popular scraper on this platform is Tweet Flash. Currently, it charges $0.1 for every 1000 tweets the tool scrapes from a list of accounts. Below is a set of instructions to show you how to use this tool to download all posts:
Go to Apify's Tweet Flash—Twitter Scraper page. Click the Try For Free button.
You have to create an Apify account before it allows you to use this tool.
After you make an account, go to your dashboard. Select Actors from the quick navigation menu on the left. If you don't see Tweet Flash, go to its page on Apify and click the Try For Free button again.
Select Tweet Flash to access the tool's console.
You can customize the tool on the console page. You can change the maximum number of posts or tweets per profile.
Click the Scrape By Profile Tab. Enter the username or X handle in the text field.
Select the Save & Start button at the bottom of the screen to start scraping the profile.
How long this process takes depends on the number of tweets you want to download. After it completes scraping the profile, you'll see all the posts. Click the Export 'x' Results at the bottom of the screen. 'X' is the number of posts.
The platform will ask you to customize the dataset. You can change the file format and only download specific data sections. Click the Download button to get the tweets file on your device.
Use TwExportly To Download All Posts From Other Users
With TwExportly, a Chrome browser extension, you can download every tweet from any user. This tool stores the data in .csv format, compatible with Microsoft Excel and Google Sheets. It contains engagement metrics, uploaded media, and tweet publishing time. Here's how to use TwExportly to download all posts from other users:
Visit TwExportly's page on the Chrome Web Store. There's an Add to Chrome button. Click it to install the extension.
Select the Extensions button and pin TwExportly to see the tool on your browser.
Open the extension and enter the X or Twitter handle of the user.
Click the Export button. This starts the process. It will take you to the account's profile page.
After completing the process, you can download every tweet as a .csv file.
The free tier allows you to export up to 1,000 posts. If you subscribe, the extension allows you to download 100,000 posts. You can also use the date filter to export specific posts. One benefit of using TwExportly is that you don't need to sign in to your X account. As a result, you don't have to worry about a third-party tool having access to your profile.
How To Download Tweet Video on X or Twitter?
You can download tweet videos if you have an X Premium subscription. When watching a video, check the menu with the three-dot button. You can save the media to your device using the Download Video option.
Another option is to use RedKetchup's Twitter Downloader tool. You must paste the post's link, and the tool extracts the media. You can change the video resolution and file type. However, you can only download videos in posts on a tweet-by-tweet basis.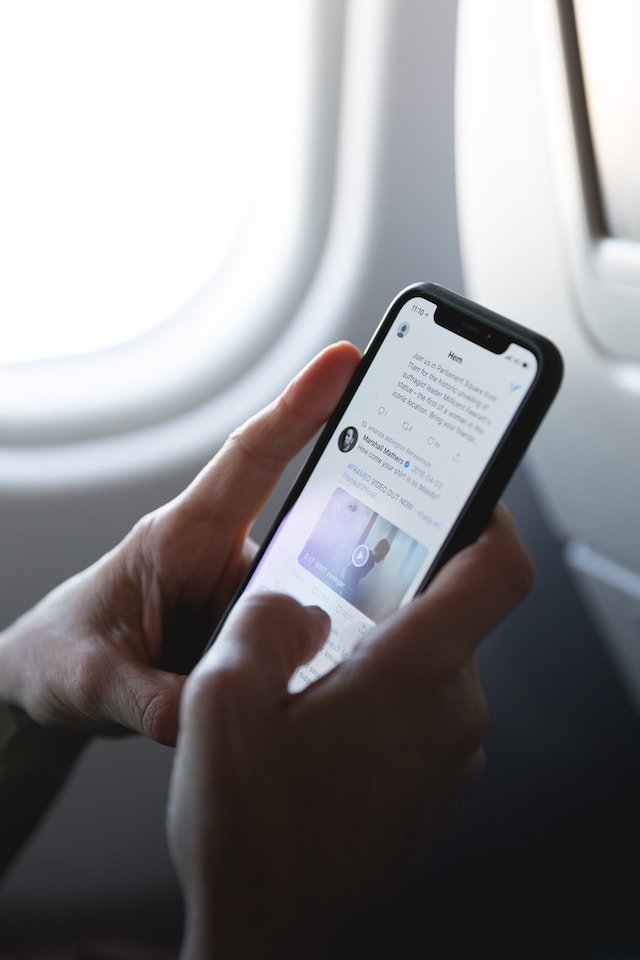 Keep a Digital Copy of Any Post on Twitter by Downloading Tweets
Use the above tools and techniques to download your tweets or another user's posts. They will save the data in a format compatible with a plethora of software. Except for the X archive method, the other tools can stop working if the platform changes its rules.
Other users may also use these techniques to see your posts. If your tweet history contains controversial posts, it can damage your online reputation. One way to prevent this is to delete all your posts or only specific tweets. However, this isn't easy on X, as it involves countless hours of scrolling and clicking various buttons.
Or, once you download tweets you want to save, you might be wondering how to bulk erase your posts. With TweetDelete, you get a single interface to view and delete every post you want. You can filter the results only to find controversial tweets if necessary. Also, you can use the automation feature to remove posts that people may take out of context. Keep your X or Twitter profile safe from online flak by using TweetDelete today!
Bulk Delete Old Tweets
Sign Up Now