Social media platforms are quite overwhelming nowadays. X, formally known as Twitter, is popular for daily controversies and pressure on the platform. Many users tend to have a love-hate relationship with the social media platform. Quite a handful of people seek active ways to disable Twitter for their mental health temporarily. However, there are certain things they don't know about the process.
You can never appreciate healthy mental health and relationships if you let social media pressure get to you. However, you must understand everything about deactivation if you want to take a break. If you don't get the basics right, a temporary decision to stay away may turn permanent. Therefore, getting help from the right source will help you through the deactivation process. Reading this article will provide you with all the details.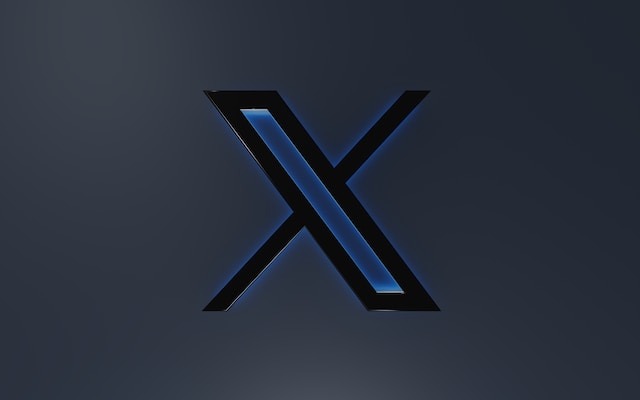 Can You Temporarily Disable Twitter? Possibility of Taking a Break
Twitter, aka X users, sends thousands of tweets on the platform every hour. Feeling overwhelmed by content and controversial posts is normal. Some people can't take the pressure of managing an X or Twitter account. Many users have often coped with abusive comments, cyberbullying, harmful tweets, and negative mentions. This has made most of them take a temporary break from the microblogging platform.
But can you temporarily disable Twitter? Yes, you can disable your account for about 30 days. Unlike other social media platforms, Twitter or X has a 30-day deactivation period. After this deactivation period, the system will permanently delete your account. Hence, you have to re-enable your account within the deactivation period.
Furthermore, deactivating your Twitter account is not a solution to violation or other issues. You must report any violators to keep them off your account. You can also troubleshoot any issue from your account without deactivating it. Apart from this, there are other things you need to know about the deactivation process.
What Happens After Temporarily Disabling Your Account? The Expected Outcome
After deactivating, your X or Twitter profile undergoes many changes on the social media platform. Although this doesn't mean you will lose your data and profile, it will only affect your social presence. Firstly, your account, tweets, and profile data will be on a possible deletion list. After that, the system will complete the permanent deletion process after the 30-day deactivation window. Every detail about your account will cease to exist after this.
In addition, other users can't access your profile on the platform during the deactivation period. Your profile page will have the tag 'account is no longer available' if anyone visits your profile. Nonetheless, your username may still appear in search results until the completion of the deletion process. Temporarily deactivating your account means your profile is unavailable until you reactivate it.
Deleting your account means the account will cease to exist forever. After temporary deactivation and permanent deletion, other users will no longer see your profile on their followers lists. Also, your direct messages and tweets will disappear from other user's X or Twitter accounts. Retweets of your tweets and other actions such as share and like will disappear from their accounts. Finally, other users can't send direct messages to your account. Disabled Twitter accounts are like they never existed on the social media platform.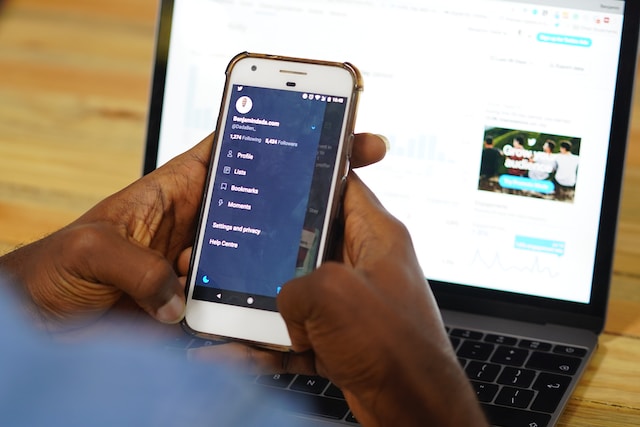 How To Temporarily Disable Twitter: Steps to Taking a Break on All Channels
Before deactivating your X or Twitter account, the system will notify you of some information. You must be sure of the action before processing your account removal request. You can only see information from your profile if you log into your account. This action will re-enable your account and void the deactivation process. In addition, you must be conscious of the deactivation window so you don't permanently lose your account. As a precaution, you can obtain a copy of your Twitter archive before disabling your account. Now, let's go through the steps explaining how to disable Twitter temporarily.
How To Disable Twitter Account Temporarily on Desktops
If you are a desktop person, understanding the steps to disable your account temporarily is essential. Although the process is almost similar to mobile apps, navigation is the only difference. Nonetheless, getting it right is easy with the appropriate steps.
Here is how to do it in seven easy steps:
Log into your X or Twitter account on a desktop web browser.
Click "More" on the left navigation menu.
Select "Settings and Support" to access a drop-down menu.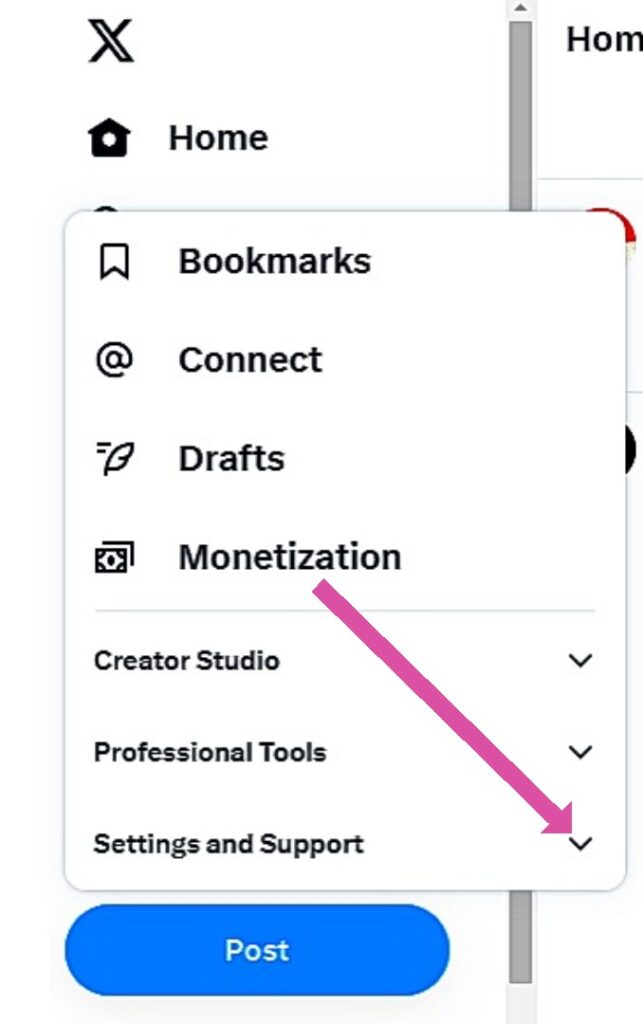 Select "Settings and Privacy." This will take you to the settings menu with "Your Account" options already visible.
Select "Deactivate Your Account" at the bottom of the page. A page displaying what you should know about the deactivation process will appear.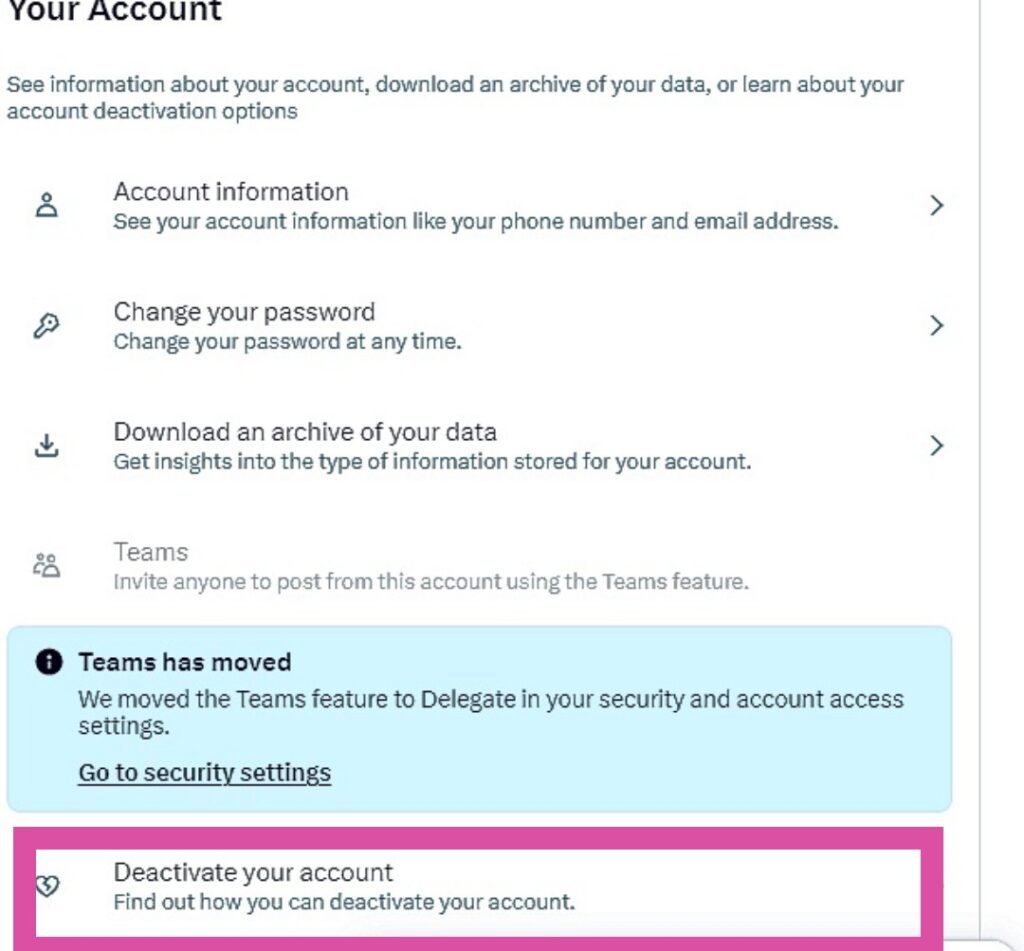 Click the red "Deactivate" button at the bottom of the page to proceed.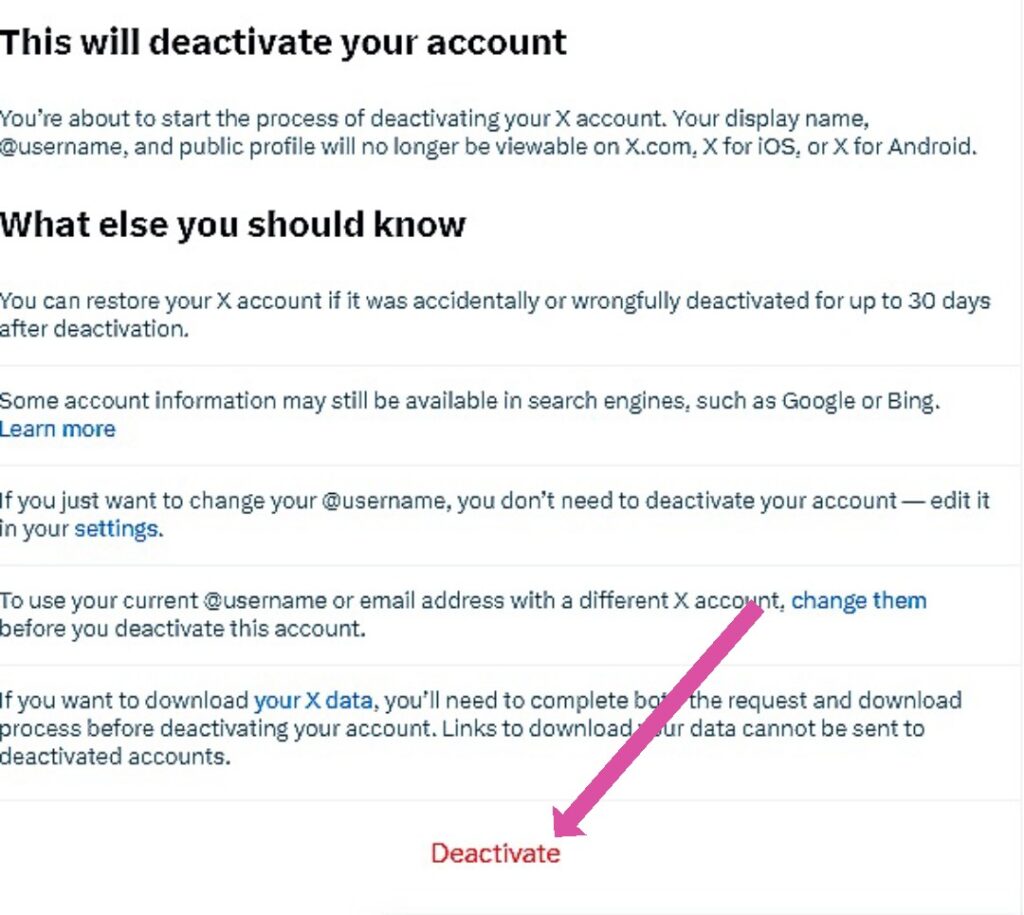 Enter your password to confirm your removal request and select "Deactivate."
You have successfully deactivated your X or Twitter account. The 30-day deactivation period will start immediately after completing the process.
How To Disable X Accounts Temporarily on Mobile Devices
Disabling your Twitter or X account on mobile devices is a straightforward process. Like the previous steps for desktops, you only have to navigate through the provided options.
Here is how to do it in seven simple steps:
Log into your account on the X, aka Twitter mobile app.
Tap the profile icon on the top-left corner.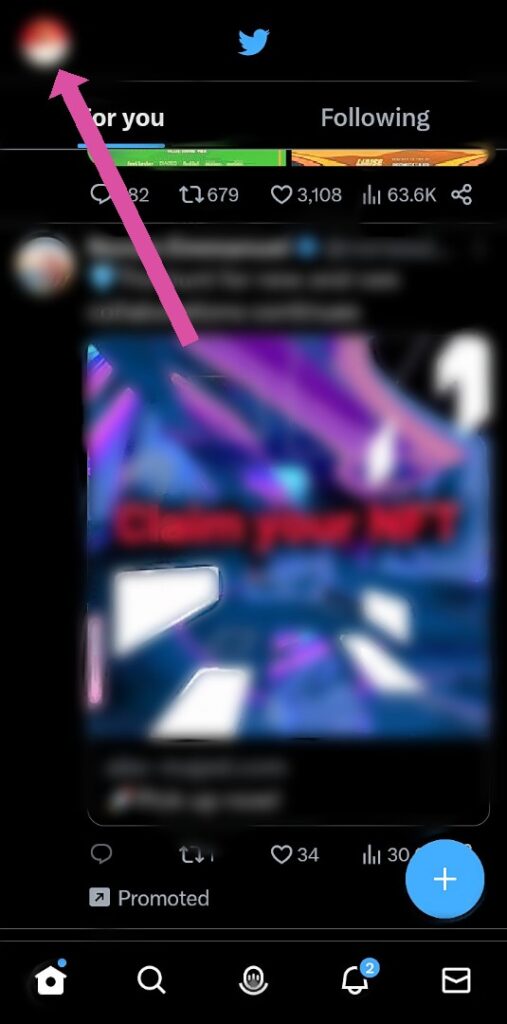 Select "Settings and Support" to access the drop-down menu.
Select "Settings and Privacy," then select "Your Account."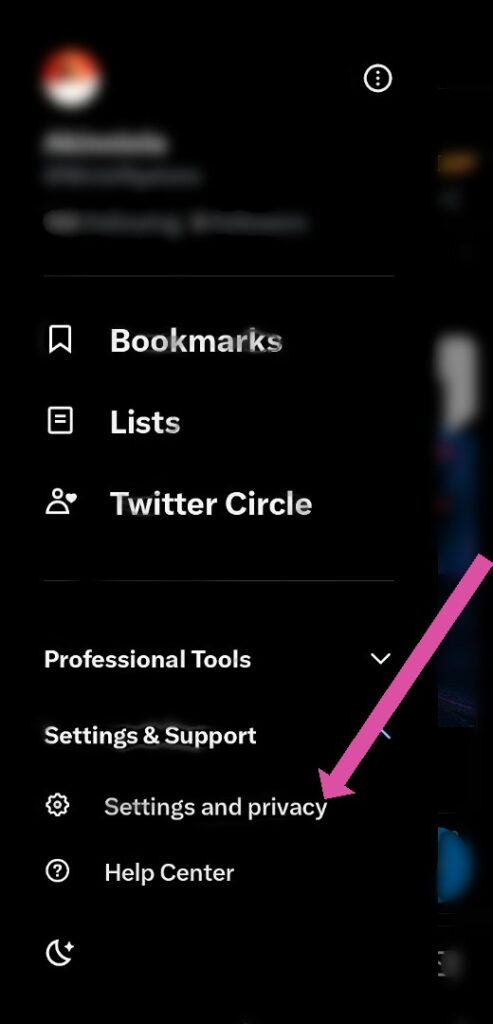 Select "Deactivate Your Account" at the bottom of the page.
Click the red "Deactivate" button at the bottom of the page to proceed.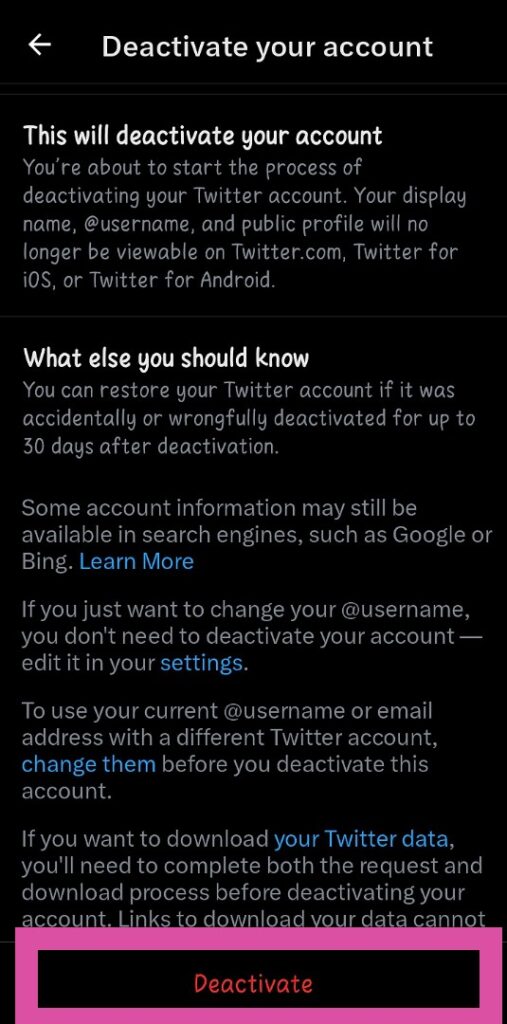 Enter your password to confirm your removal request and select "Deactivate."
You have successfully deactivated your X or Twitter account. Before deactivating your account, you have the option to request your data. You can also use your username or email address for a new account. The system will give you the option to change this information before deactivating the account. This enables you to use your current username to begin afresh on another account during deactivation.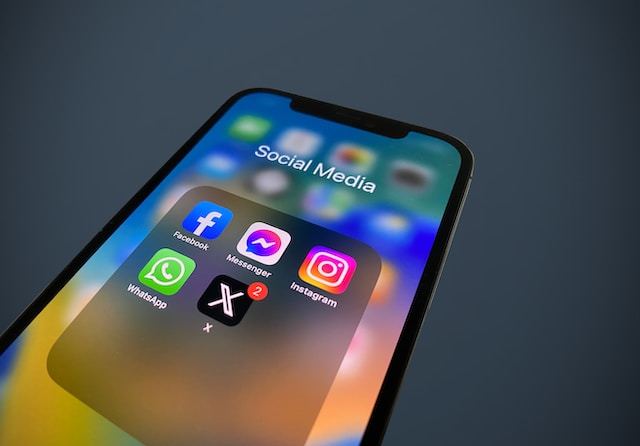 Why Do You See Your Information After You Disable Account? Internet Imprints
Deactivating your account means your information won't appear on the X or Twitter platform. Your tweets and other information will appear on search engines like Google. The platform has no control over search engines. So they can't remove your information from there. However, search engines constantly crawl and index web pages to update search results. Your account information will cease if they crawl it during an update. However, this process takes a long time before it occurs.
You can manually remove your information if you can't wait until this happens. You only need to access the Google Search Console for Google or Content Removal Tool for Bing. Submit a removal request to them by adding the link to the page you want to remove. In addition, third-party apps linked to your X or Twitter account can access your account without your awareness. The access given to them allows them to enter your account freely. When this happens, the action will automatically re-enable your account.
You can temporarily disable Twitter to remove your tweets from the platform. Also, you can undo negative retweets to clear all traces. Instead, why not delete controversial tweets from your account without the hassle? Fortunately, you can delete multiple tweets at once with the right tool.
At TweetDelete, we have invented an effective web application that filters and deletes bulk tweets. This app loads, imports, and deletes tweets and archives effortlessly. TweetDelete does not spread promotional information on your timeline. Start filtering and cleaning your Twitter timeline today!
Bulk Delete Old Tweets
Sign Up Now