Have you ever read something and went, "Uh oh, what did I just read?" Well, that's cursed. Cursed tweets refer to strange, weird, disturbing, and startling posts. Some are downright scary and seem so dark. But some are funny, so you'll have a good laugh after your initial shock. If you've ever read a cursed tweet, you'll have painted a perfect mental image of this situation. But if you're a Twitter user and haven't, you will find out soon enough.
That's because Twitter, now known as X, is a platform where free speech thrives, although not hate speech. And because it is text-based, millions of users share their thoughts in the 500 million tweets they send out daily. With many shrewd, odd, and awkward users, you'll certainly encounter cursed posts. If you're thrilled by twisted tweets or looking to learn more about them, this piece contains practical examples.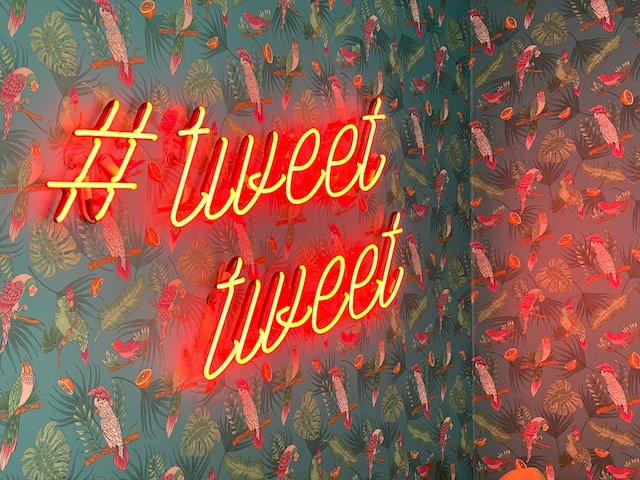 Are Cursed Tweets the Same as Cursed Images? Discover Their Similarity
Many have asked justifiable questions about this topic. One such question regarding cursed content on Twitter is their format. People seek to know if they are purely text. Well, though they're mainly text, they could be anything. I've seen cursed Twitter memes, images, videos, gifs, and what have you?
Cursed images and tweets are like birds of a feather. They represent the same general idea, the only difference being their format. Tweets mostly refer to written posts on Twitter, aka X, while images, as we all know, are pictorial. If this is your first time coming across these terms, you'll wonder what makes pictures or tweets cursed.
Generally, the nature of someone's content, context, quality, or a combination of all three factors account for twisted tweets. They may be unsettling, mysterious, gross, unfathomable, or scary. They might have you wondering how the creator came up with such ideas. If you're on Twitter, get ready to see some cringe-worthy tweets. But promise not to cower. Just laugh and scroll through because most funny, cringe tweets are more hilarious and awkward than scary.
You may still find it difficult to understand if you aren't familiar with funny cursed tweets. I could keep explaining all day without you developing a perfect understanding. So, my best shot at making this work would be to present you with hilarious examples.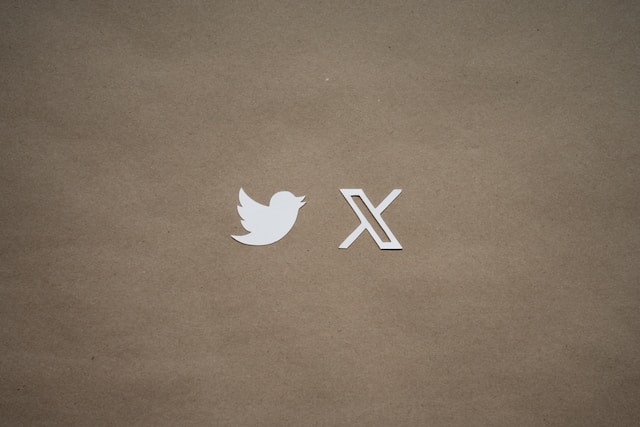 Searching for Premium Entertainment on X? Check for Funny Cursed Tweets
Do you believe that funny is relative? Well, what's funny to me may not be funny to you. Someone could keel over laughing because they heard a joke. However, another person might hear that same joke and not even break a smile. But that won't be the situation in this case because funny cursed tweets make every humorous person laugh. So, if you don't laugh after seeing these tweets, you are the problem.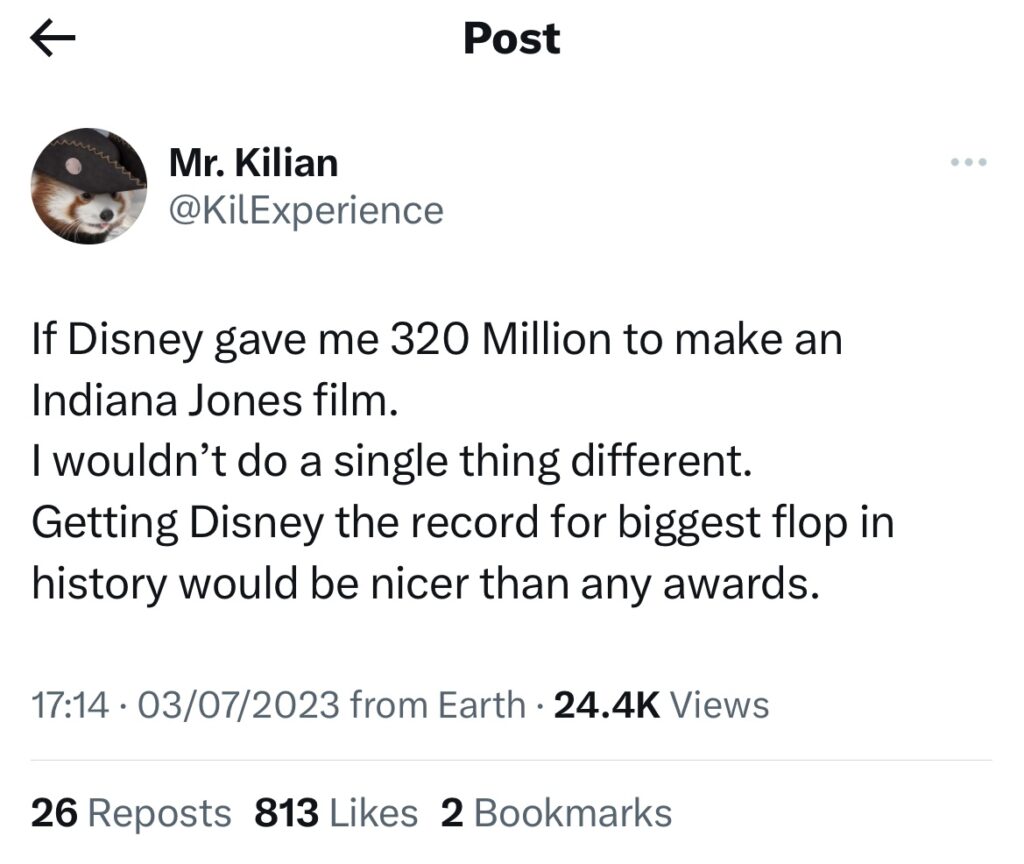 Disney's About To Go Down
Let's start with the comedian @KilExperiencewho, who thinks causing the fall of an industry giant is more rewarding than money. Yes, you read that right. The author would rather lose a chance to earn big just for the fame of causing Disney's downfall.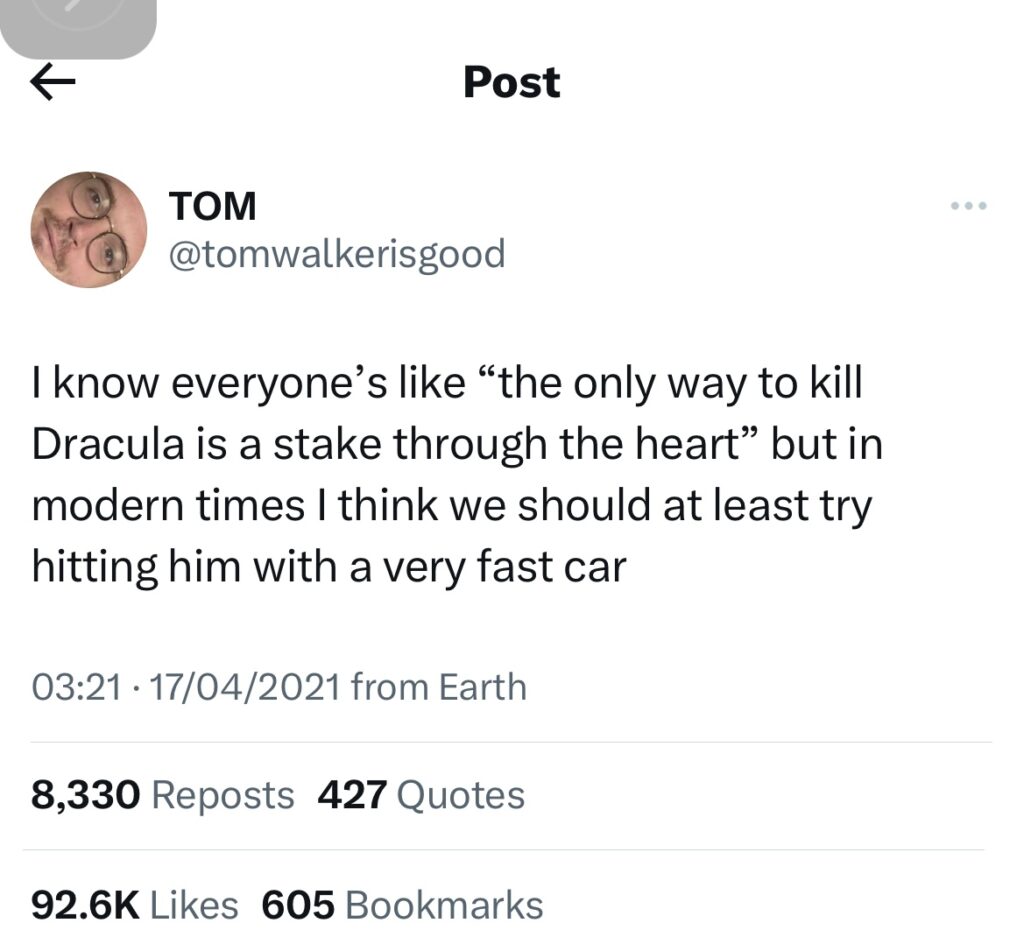 1001 Ways To Die
A funnier tweet is from @tomwalkerisgood, who thinks a vehicle can kill a million-year-old vampire. Well, between the silly attempt or him shredding himself while the vampire remains unscathed. I can't fathom which will be funnier.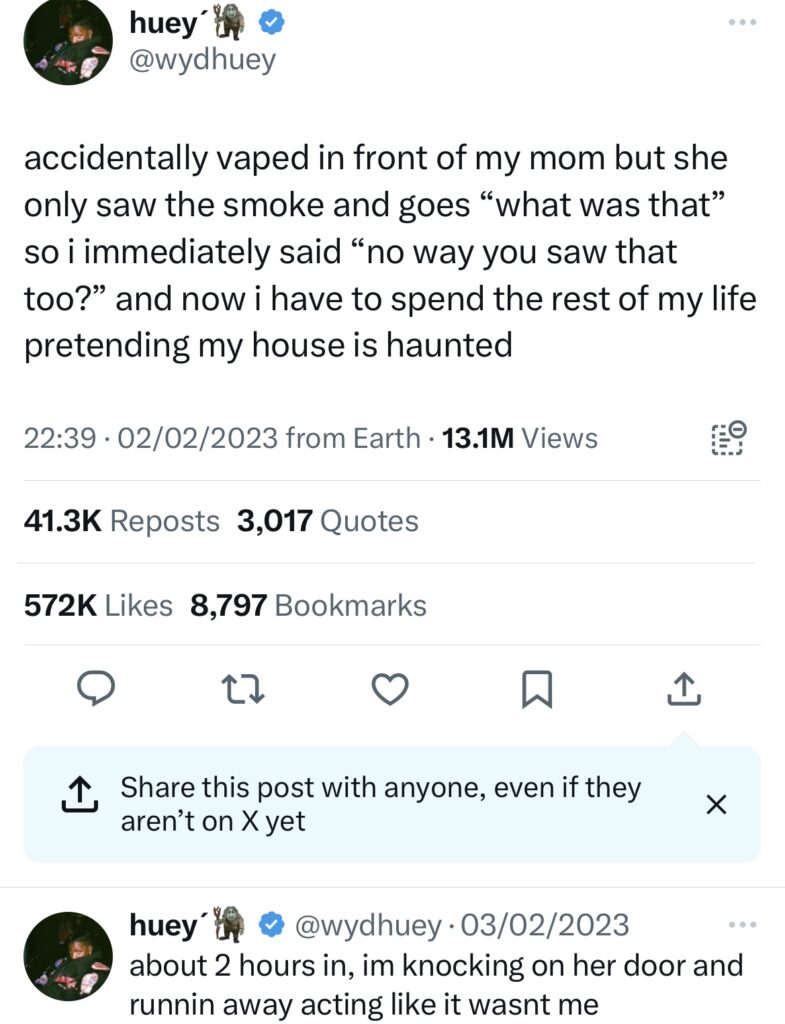 The Ghost Is an Addict
So, ghosts now smoke? It's such an intriguing lie. He'll probably have to keep knocking at intervals whenever his mum visits.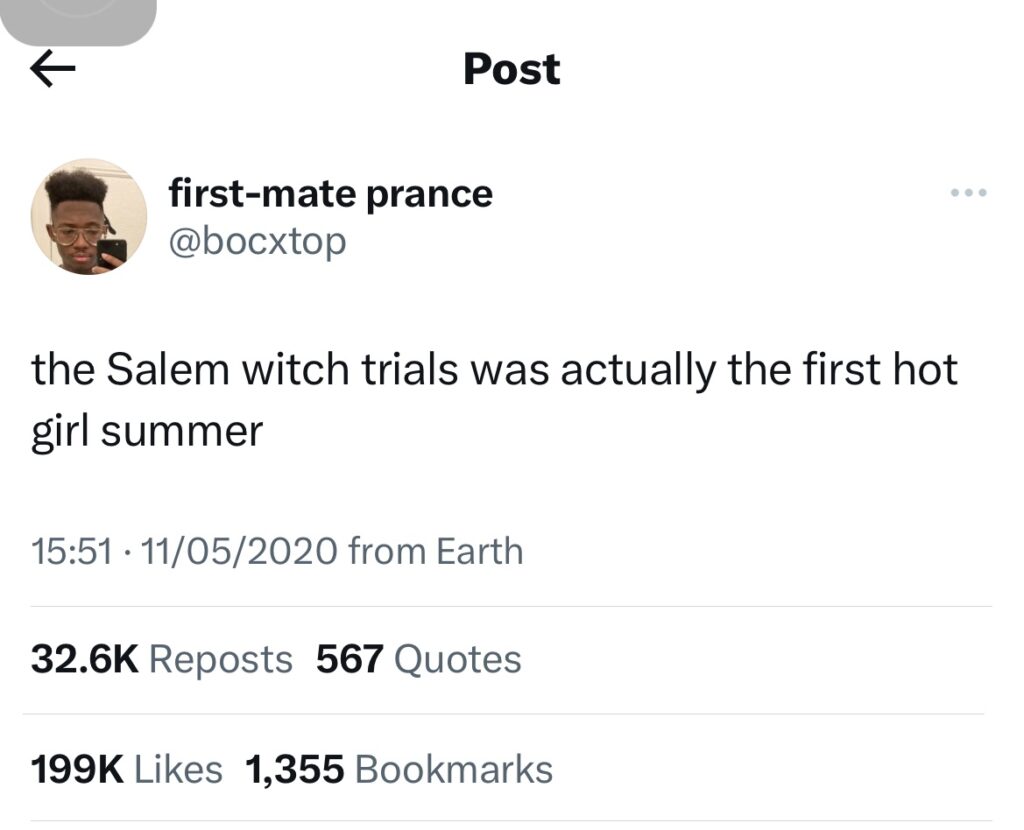 Salem Witches With the Summer Body
Well, it seems witches were hotter way before humans. It isn't surprising, though. Witches can conjure flames. What's hotter than that?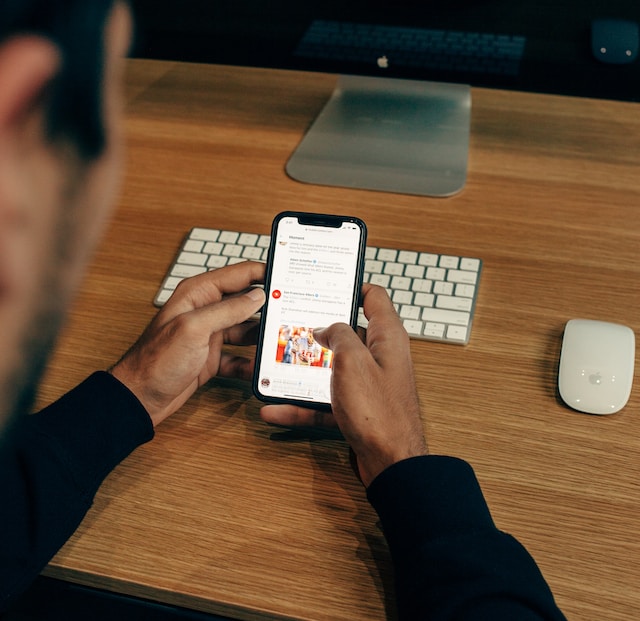 Cursed Christmas Tweets: Iconic Twisted Tweets
While funny tweets are for random days, there are super-popular tweets, especially for the holiday season. If you could wrap your head around those hilarious cursed posts on Twitter, this wouldn't be any different. And if you're a weirdo, this might serve as your muse to craft entertaining content for your Twitter followers. So, let's delve into cursed Christmas tweets.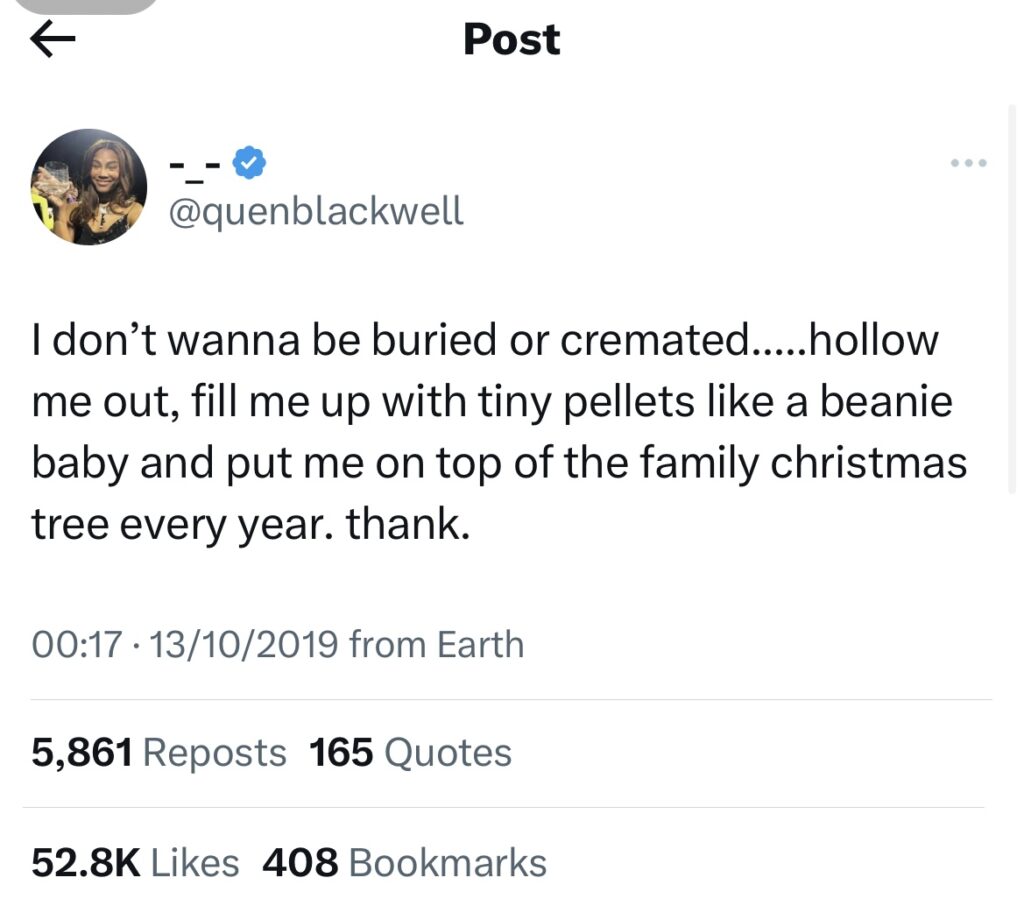 Christmas Tree Grave
Here's a cursed Christmas tweet from @queenblackwell. Now, that's a really weird wish. It made my skin crawl. I don't think you could ever think the same of any Christmas tree after this.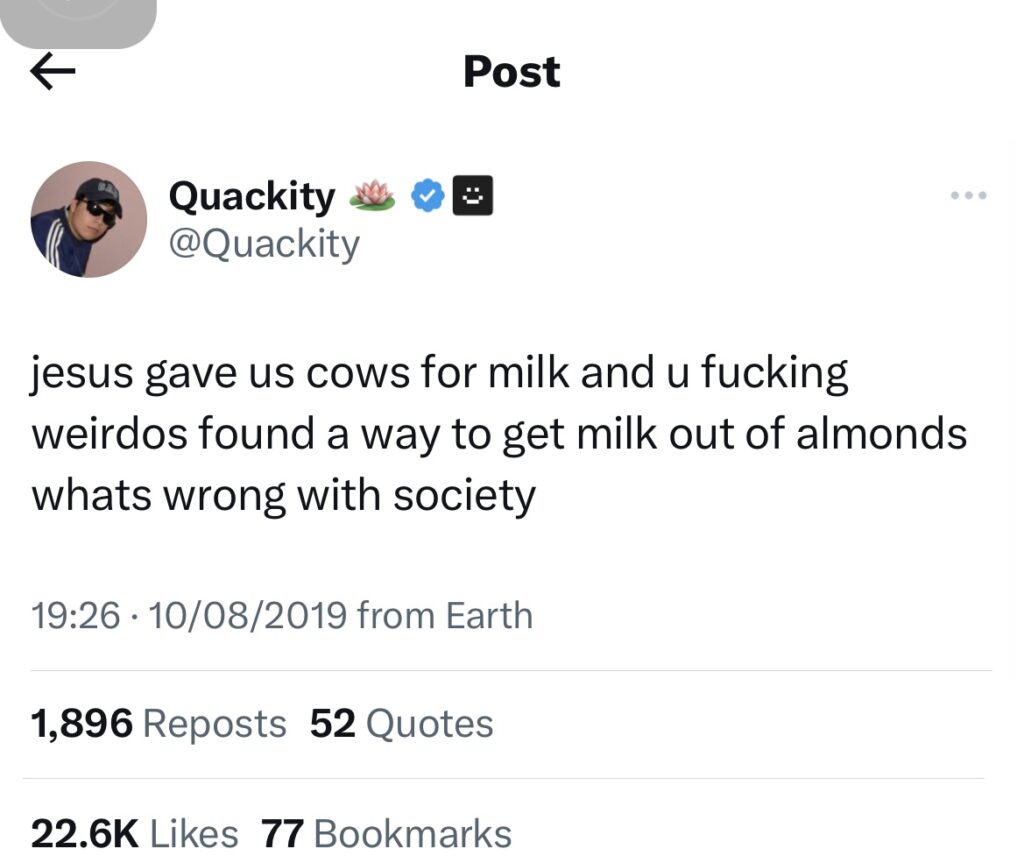 Almond vs. Cow Milk
Obviously, @Quackity feels society is unappreciative. Well, this won't sit well with vegans. How does this tweet author expect the healthy eaters of the world to get some milk for Christmas?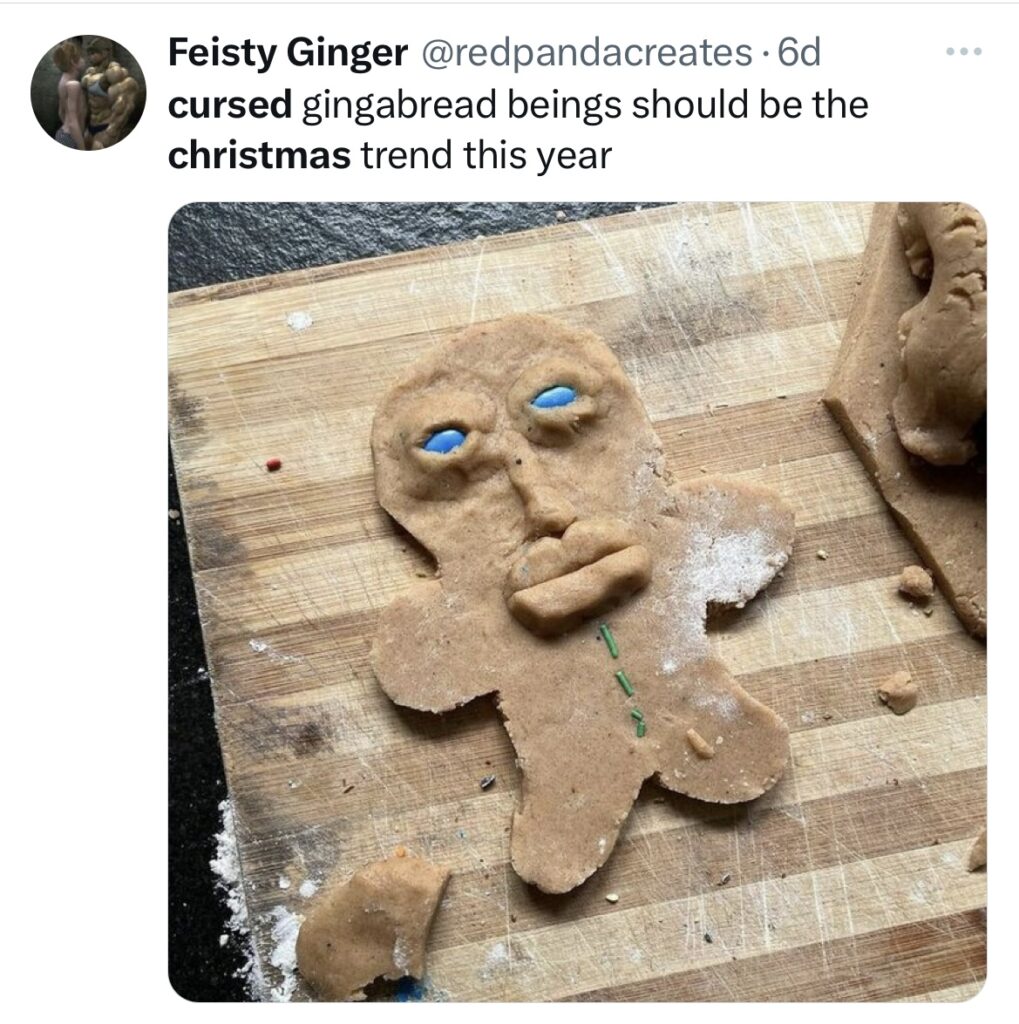 Accursed Gingerbread Man
Christmas is a festive event with lots of delicious delicacies. But this monstrous-looking pastry will scare all your guests away. This gingerbread being can turn a Christmas get-together into a dispersal party.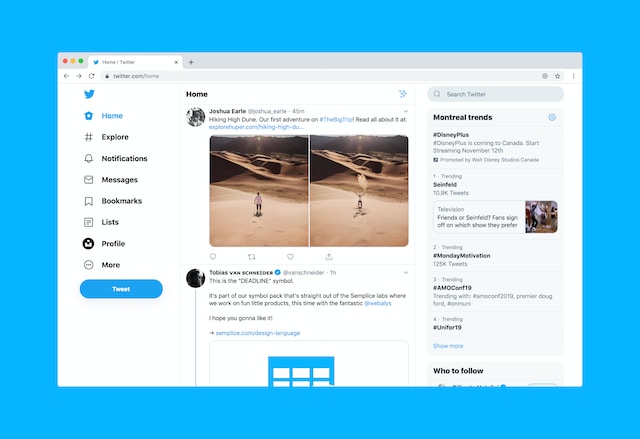 Twitter Cringe: Exploring Twitter Thrillers
Are you looking for viral tweets that are downright squirmish? Well, Twitter cringe posts can make you wince and laugh simultaneously. So, you've hit the jackpot. Here are some uncanny cringe tweets for you to see.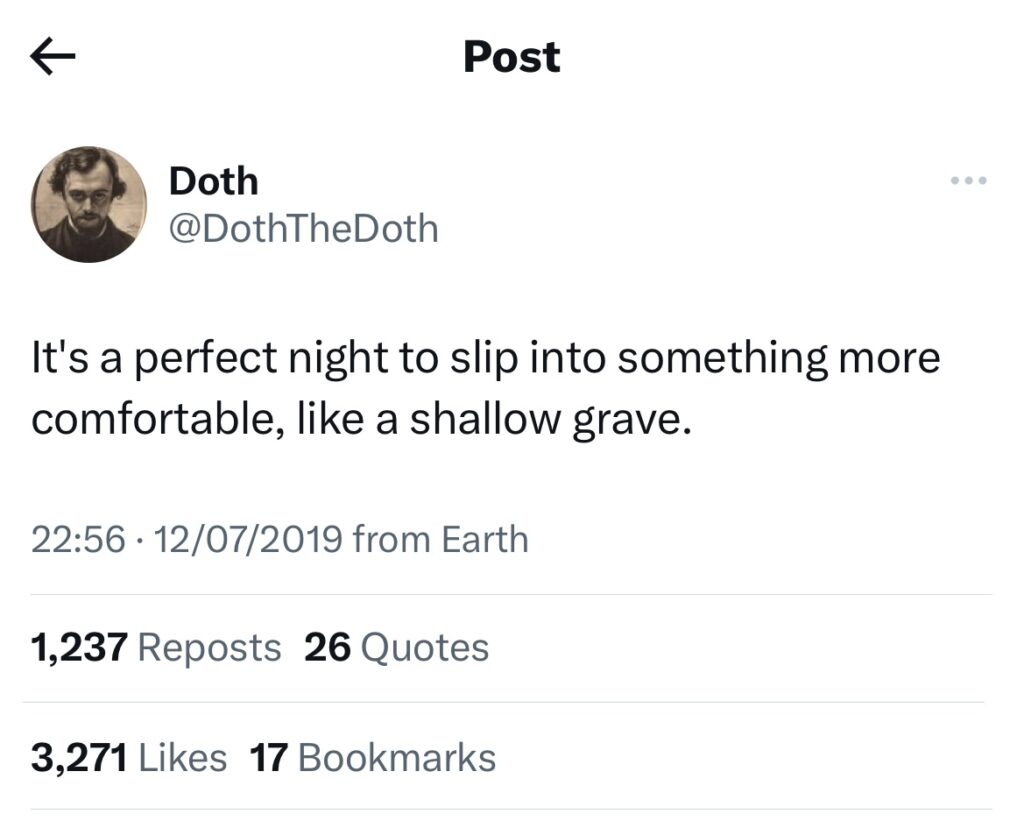 Slipping Into the Deathly Hallows
Slipping into a grave? Now, that's bizarre. Well, I think death has a voice. And that's the voice in the tweet.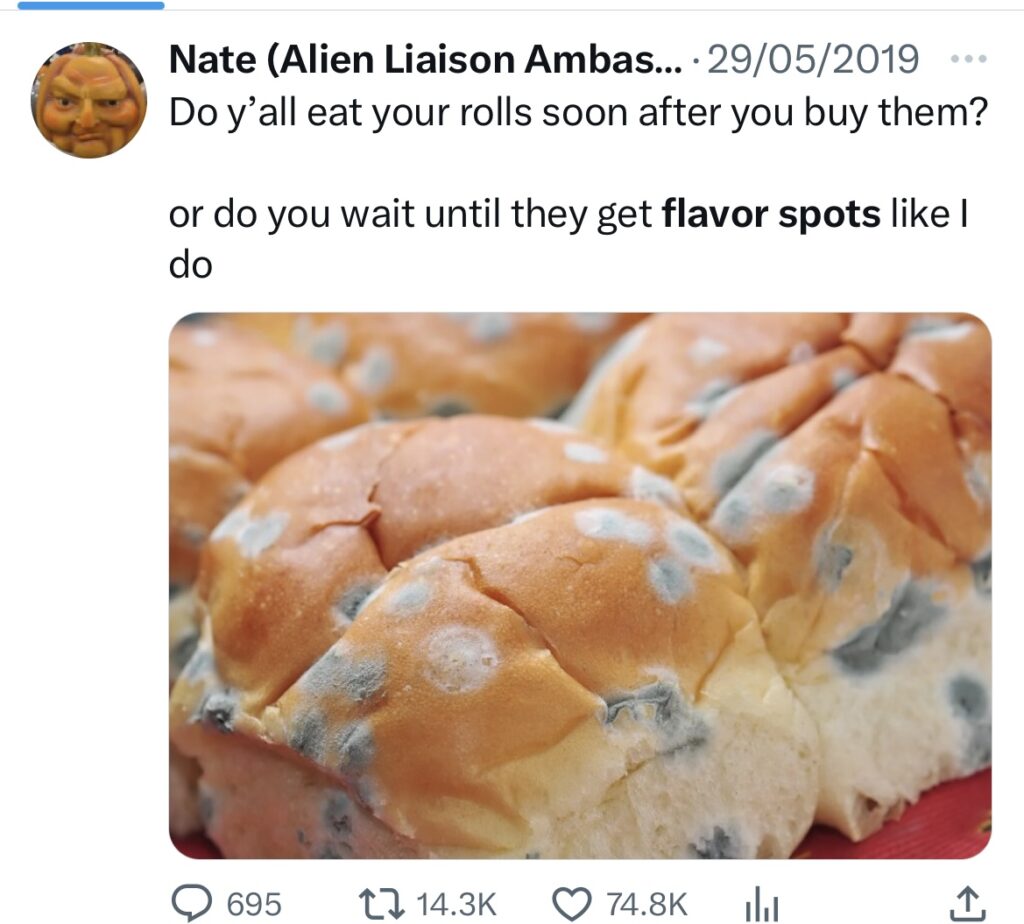 Ingesting Yucky Germs
Here's another highly odd tweet from @WhoIsMrWeed. Guess what the flavor spots are? Mold and fungi. Ewww, gross.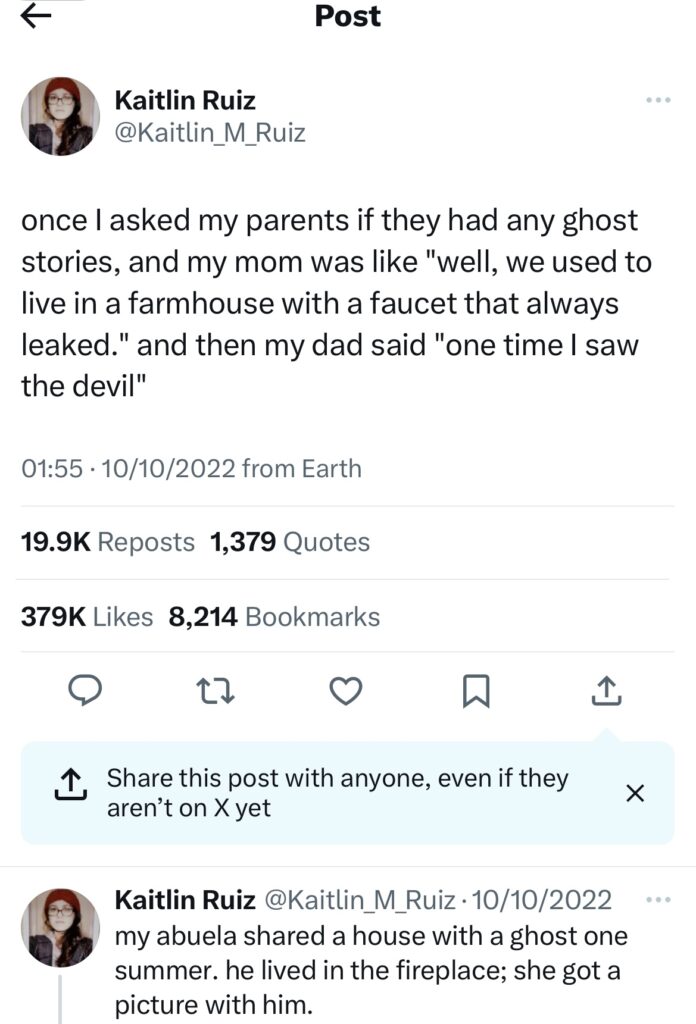 Ghosts in a Haunted House
Last but not least, prepare to have chills. Though I can't ascertain the truthfulness of this tweet, it'll be scarier if it's true.
For more mysterious tweets, visit the images that are unbelievably cringe page. But while scrolling, be careful not to retweet any of these posts if you have a reputation to uphold. However, if you've already made the mistake of retweeting, there's still hope. You can salvage the situation by deleting or undoing your retweet of cursed tweets.
Luckily, you have Tweetdelete's efficient and effective web tool to help you filter and delete unwanted posts from your timeline. This tool can even go the extra mile to delete all records of unwanted tweets from your archive. Interestingly, you don't have to endure watching promotional content. So, start cleaning, filtering, and deleting your Twitter timeline today!
Bulk Delete Old Tweets
Sign Up Now