Reports show that Twitter, now X users, post millions of videos and watch billions daily on the platform. If you're among those who enjoy X videos, you'll admit they are informative and entertaining. However, with so many videos on the platform, it can be hard to track your favorites. Maybe you watched a video and want to see it again; how can you find it on X. You can do that with a Twitter video search.
Unlike other social media platforms, Twitter does not allow you to download or save videos on the app. So, it's easy to pass over an interesting video. However, you may need to share it with a friend later or even wish to retweet it. Luckily, Twitter's inline and advanced search allows you to find anything on X, even videos. Thus, this article will outline how to search videos on Twitter using X search tools.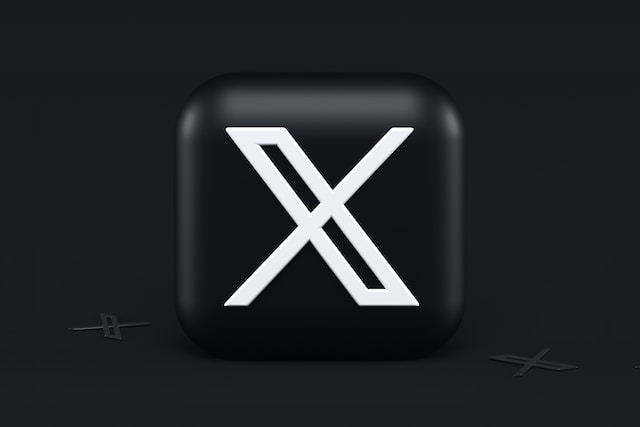 How To Search a Video on Twitter: Accessing Video Posts on Interest
You'll not always see Twitter trending hashtags or videos on your timeline, especially when not in your range of interest. However, you can still find such trending videos on the platform by searching for them. If you're wondering how to search for a video on Twitter, there are many options you can explore. This section outlines some of the easiest and most popular methods.
How To Search for a Video With Twitter Inline Search
You can find almost anything on Twitter using its inline search feature—the Twitter search functions like a browser search but with limited coverage of the platform's data. You can find tweets and media content from any public account using this feature. You just need to type in a search query and get results from content with related keywords.
You can follow these three steps to search for a video using Twitter search: 
Open the search tab by tapping the magnifying icon at the bottom of the page.
Type your keyword into the search field at the top of the page and enter to begin your search.
Twitter will provide results grouped in various tabs, like Top, Latest, People, Media, etc. Move to the "Media" tab and navigate to find your video.
This method is usually effective for videos with unique keywords that are trending. Additionally, you can improve your search by adding the word "video" to your search keyword. For example, when searching for a TweetDelete video, type "TweetDelete's video" to return a more accurate result.
Also, while the "Top" result tab is usually effective for detailed keywords, searching videos from the media tab is easier. If you're looking for a trending video, this tab provides multiple options from different users and allows you to choose.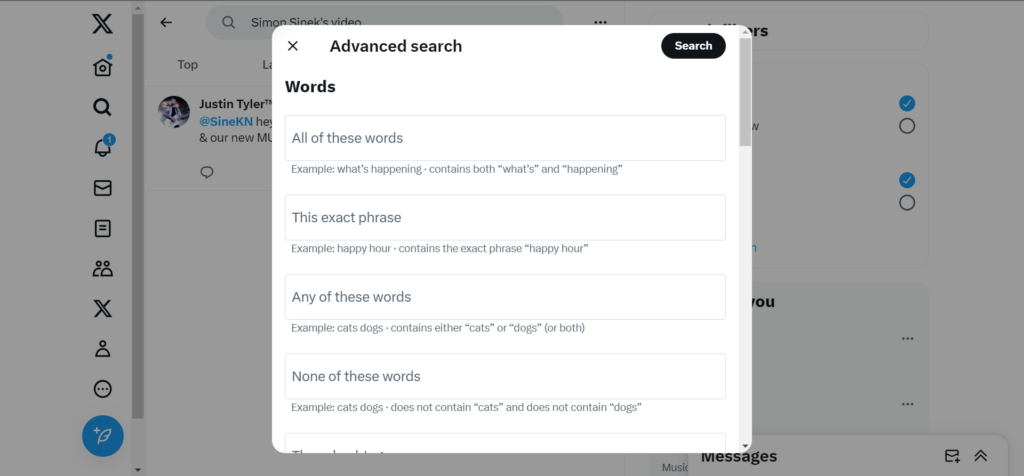 How To Find Twitter Videos With the Advanced Search Feature
Searching with Twitter's inline feature will not always get your desired result. The available filters and corresponding results are not always detailed. However, Twitter's advanced search provides much more than the regular search feature.
It has more filters and returns more extensive results for a search keyword. You can also use search operators and filters to specify your search more. Unfortunately, you can only use the advanced search feature from Twitter's web version.
Here are the five steps to search for a video on X using the advanced search feature:
Open the search tab from the navigation menu on the left by tapping the magnifying icon.
Type and search for a desired keyword.
When your search returns results, navigate to the left and click "Advanced search" below the search filters. Alternatively, you can open Twitter's advanced search directly on your browser.
A pop menu opens with advanced search options to help you specify your search. Fill out the fields appropriately and click the "Search" button in the black highlight at the top of the menu.
Move to the media tab and navigate downward to find your video faster.
Besides the extensive reach of Twitter's advanced searches, it offers many benefits that help your search. For example, it provides many filters that help specify a search to an exact match. It also suggests numerous search operators without remembering and inserting them yourself. Provided the video you seek is from a public account on Twitter's database, you'll find it with the advanced search.
How To Find a Twitter Video From a User's Profile
If you're searching for a Twitter video, you've undoubtedly encountered it on the platform or heard about it from someone. Your search will be easier if you remember the user who posted the video. You can search for it directly from the person's profile. Searching a video on a user's profile page is the easiest way to find an X video.
So, if you know who posted a video on X, follow these steps to search for it from their profile:
Open the user's profile on your following list or by tapping the profile icon on their post.
On their profile page, navigate to their media tab to find all photos and videos posted from their account.
Scroll downwards to search for your desired videos.
Alternatively, use the search icon in the top right of their profile page to find the video from their timeline.
This method lets you easily find your desired video, provided the user did not delete it from his timeline. However, you can only use this method for public accounts. If a user with a private account posted the video, you can only find it if you're their follower. Non-followers cannot view the user's profile and media timeline. It will not appear on your result hits even if you search for it.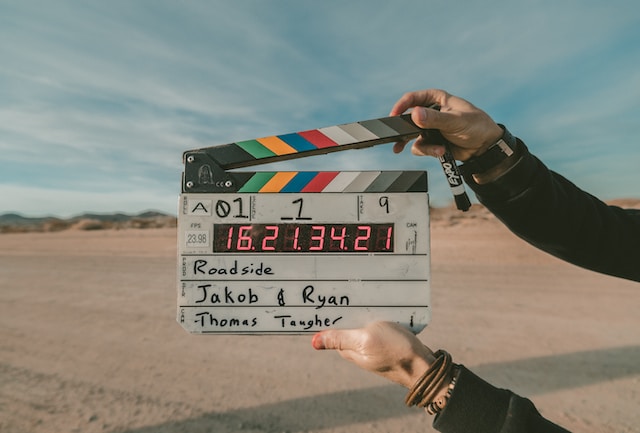 Reverse Video Search Twitter: Exploring a Video Source on X
Although you cannot download a video on Twitter, now X, you can share it directly on the platform. You can also share it across other social media platforms without downloading it. That is one way Twitter videos circulate within and across the platform.
With many active Twitter followers and audiences sharing and retweeting videos, it is usually difficult to track a video source. That is especially true when the video begins to trend. Reverse video search is a popular way to track the source of a video on the internet. But can you use this method on Twitter?
Unfortunately, you cannot perform a reverse video search on Twitter. However, you can reverse-search a video you find on Twitter to track its source online. The process is quite simple and helps you verify the genuineness of an X video content. One popular tool for reverse video search is Google Lens. It is easy to use, especially for beginners, and returns accurate results.
Follow these five steps to reverse search a video from Twitter on the internet using Google Lens:
Open the video you wish to reverse search on X and screenshot a video frame.
Open Google Image Search on your desktop tab.
Tap the camera icon on the right of the search bar to open Google Lens.
Upload the video frame screenshot and click "Search" in the white highlight.
Google will then provide a list of matches with their corresponding sources.
There are many other reverse search tools that you can explore. All of these use the same process listed above – uploading a screenshot and scanning the internet. If you need to try out another option besides Google Lens, check out any of the following:
Shutterstock
Berify
Tineye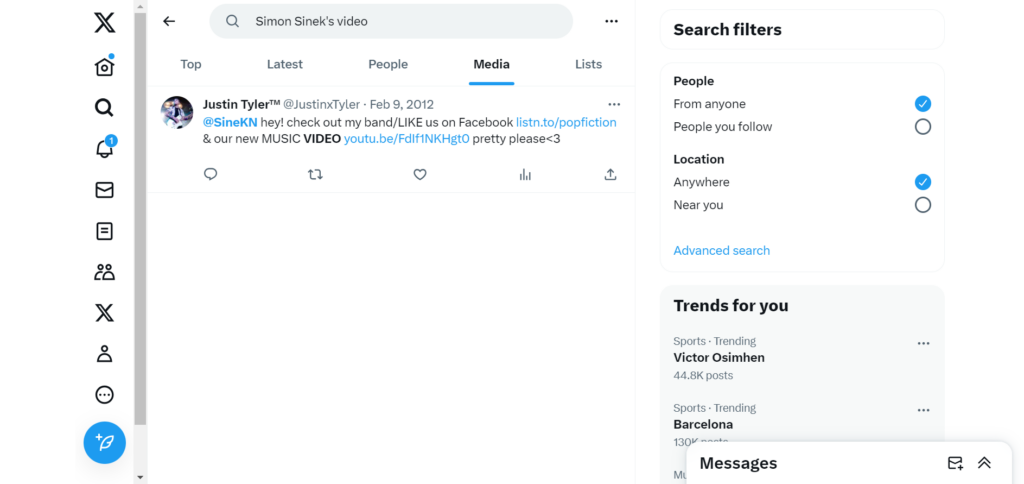 How To Search for Old Videos on Twitter
Twitter has an extensive database. Imagine a system that stores millions of tweets, that is, users' most recent 3200 tweets, including their media content. So, you can find old tweets and videos users post on the platform. Maybe you came across the specific video a while back, or it was in trend. And now you need it but can't find it on your timeline or contacts'.
You can easily find old X videos with the advanced search feature using specific filters and operators. However, to use this search operator effectively, you must know the date or period of the video's publication.
Below are the seven steps to find an old video on X with the advanced search feature:
Go to the search page from the navigation menu on the left by tapping the magnifying icon.
Type and search for a specific search term.
When your search returns results, navigate to the left and click "Advanced search" below the search filters. Alternatively, you can open Twitter's advanced search directly on your browser.
A pop menu opens with advanced search options to help you specify your search.
Fill out the search boxes appropriately for the keywords and filters. Also, specify the start and stop date under the "From" and "To" options, respectively.
Click "Search" in the top right corner of the menu window.
Navigate to the "Media" tab of the search result to find your desired video.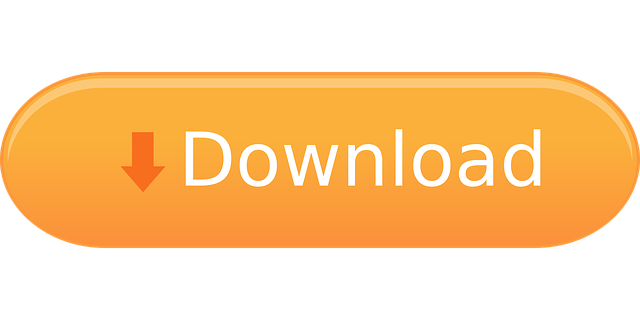 Can You Download Twitter Videos to Your Device?
There are many ways to search and find videos on X, even old ones. But how do you save a video if you don't intend to share it now? Unfortunately, there is currently no way to download Twitter videos from the X app or web version to your device.
However, you can download X videos through third-party apps and software. These are available for mobile and desktop users. Although they will not help you search for Twitter videos, they can help you download them using the video links. When you find the video, you only need to copy its link and paste it into the application to download it.
The applications are different for iPhone, Android and desktop users. Nevertheless, each user base has different options to choose from. The table below outlines the various Twitter video download apps for different devices.
Twitter Video Download App for:
iPhone
Android
Desktop
TweetSave
Twitter Video Downloader
TWSaver
AnySave
Video Downloader for Twitter
SSS Twitter Video Downloader
TwSave
GIF Tweet Downloader
TwitterVid
Is There Any Third-Party Twitter Video Search Tool Online?
Besides the app, there are many third-party tools and software for browsing and managing your Twitter account. Some of these tools use the X API and allow you to modify your account and follow and unfollow people on Twitter. Others even allow you to download and save X videos to your devices.
Therefore, you may wonder whether a Twitter video search tool exists for finding videos on the platform. Unfortunately, no intermediary software can help you find videos on X. Even the apps for downloading Twitter videos come into play only after you've found your desired videos.
However, you can easily search and find Twitter videos directly from a web browser. Simply search the video keyword and add "on Twitter" to your search phrase. For example, you can search for "TweetDelete's tutorial video on Twitter." If such a video exists, the search engine will pull it up in the result hit. You'll also find closely related searches using this method. It is another clever way to make a Twitter video search.
However, there are other third-party Twitter apps you should consider, like TweetDelete. This X management software helps you erase tweets and likes from your timeline in bulk. You can also use it to automate tweet deletion from your timeline to keep it fresh and always attractive. All you need is a single click on this software. With that, you can import your timeline into your archive and restart your Twitter journey without a trace. So, get TweetDelete and start filtering and cleaning your Twitter timeline today!
Bulk Delete Old Tweets
Sign Up Now